Bill Bell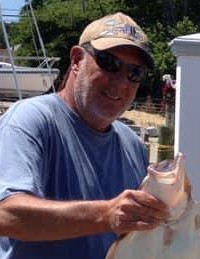 On October 24th, 2020 William "Bronco" Bell, beloved husband, father, brother, uncle and friend, passed away at the age of 67.
William was born on July 31st, 1953 to Mr. Willard Bell & Ms. Helen Bell. He was the oldest of 4. He was born in Somerville, NJ and resided in Lavallette. He worked for Chanel until his retirement in 2008.
William's hobbies included fishing, golfing, gardening and having a good time. He also spent his life helping others. He loved his family and friends deeply and would do anything to help them.
William is predeceased by his sibling, Thomas Bell. He is also survived by his wife Jane Bell, stepson Drew Calvo and wife Lindsey, stepson Kevin Calvo and wife Meghan, stepdaughter Loren Foster and husband Jonathan Foster. Also cherished, his 7 grandchildren, Robert and Faith Calvo, Dylan Calvo, Aidan, Cooper, Katherine, and Bennett Foster. Also survived by, his mother Helen Bell, his father
Willard Bell and wife Pat, brother James Bell and wife Patti, sister Annemarie Dupras and husband Thomas, nephew Thomas Dupras and wife Jamie, niece Megan Milligan and husband Sean, niece Jaime Bell, great nephew Brandon, and great niece Hailey Dupras.
Visitation will take place on October 29th,2020 from 3pm to 6pm, at the Sheenan's Funeral Home, 223 Dunellen Ave, Dunellen. Due to Covid-19 restrictions, masks must be worn during the service hours. Cremation will be private.
Donations in William's name can be made to either to the CHOP, Oceans of Love, and JERSEY COAST ANGLERS ASSOCIATION INC.
To send flowers to the family or plant a tree in memory of William P. Bell, please visit America's Florist.