Les Thornton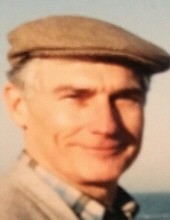 Leslie Thornton, 87, passed away peacefully in his home in Ocean Beach, NJ, January 22, 2018.
Les was born in Newark and went to Central High, where, while on the basketball team, he met his future wife, Betty (Elizabeth), who was a cheerleader. They lived in Irvington where they were in the church choir at Sanford Heights Presbyterian Church and Les was Scoutmaster of the Cub Scouts. Previously Les served in the Army receiving an Honorable Discharge.
Affable, gregarious, and easy-going, Les worked his way up from truck driver to President of a power transmission company. He also served as President of the Newark Rotary Club.
He enjoyed the beach and sports and was quite the handyman.
Les was pre-deceased by Betty. He is survived by his second wife, Jacque Miscavage, son Doug, daughter Holly and son-in-law Glenn Beyerl, and grandsons Travis and Evan, as well as numerous nieces and nephews, and stepdaughters Diane, Virginia, and Cheryl. Les's older brothers Larry and Stan passed away in the previous two years.
In lieu of flowers, Les's family requests donations to the Alzheimer's Association.(https://www.alz.org/nj/).
Visitation hours are Friday, January 26, 4 – 8 PM, at Dooley Funeral Home, 218 North Avenue West, Cranford, NJ, 07016 (908)276-0255. On Saturday, at Dooley's, there will be a gathering to celebrate Les's life at 11 AM. Next week at 1:30 PM his ashes will be buried at Point Pleasant Presbyterian Church, 701 Forman Ave, Point Pleasant Beach, NJ 08742.